This will be a very sad loss for the Province and I'm sure you will join me in thanking W. Bro. Brian for all the hard work he has undertaken for the Province of Northumberland, and join with me in wishing him a very happy retirement.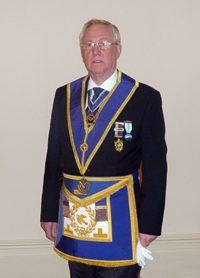 The position of Provincial Grand Secretary and Provincial Grand Scribe E. requires exceptional people management skills as well as a high degree of diplomacy, confidentiality, excellent office management and the ability to represent the Province of Northumberland at both the United Grand Lodge of England, Supreme Grand Chapter and in other Provinces.
We seek a dynamic individual who can assist in taking the Province forward as it develops over the next 5 years. The role of Provincial Grand Secretary and Provincial Grand Scribe E. is administering the affairs of the Province and maintaining strict financial control within the Provincial Office, working closely with the Provincial Grand Treasurer.
The appointee will need to demonstrate the vital qualities of attention to detail, excellent verbal and written communication skills, a detailed knowledge and experience of IT software, Microsoft systems, and the ability to manage and motivate staff in the Provincial Office.
Reporting to the Right Worshipful Provincial Grand Master and his Executive. The successful applicant will be expected to work in the Provincial Office for five days per week and will be contracted for a fixed five-year term, reviewed after six months and subject to a successful probationary period. It is expected that the successful candidate would be available to work alongside the current Provincial Grand Secretary and Provincial Grand Scribe E. for at least two months before taking up the post.
The role requires attendance at various Masonic meetings and social functions throughout the year as required and deemed necessary to maintain the presence and representation of the Provincial Secretariat.
The post holder will support the Provincial Executive, and the appointee will have scope to develop the role especially with regard to new initiatives of electronic communication, and attracting new members into the order.
We are inviting Expressions of interest from Brethren who feel they can assist the Provincial Grand Master and the Executive of the Province of Northumberland with the task of improving electronic communications and administration processes within the Province.
If you feel that you meet the standards that we require, please submit a Curriculum Vitae of no more than three A4 pages outlining your career to date and detailing your suitability, ideas and strategy for the post of Provincial Grand Secretary and Provincial Grand Scribe E. Short listed candidates will be invited to an initial interview in March 2018, at which point a full job description will be offered to those considered for interview.
Please send your application no later than Friday 23 February 2018. Mark your envelope Strictly Private and Confidential and post to:
Dr. G. R. Smith
Foxhemels
West Thirston
Northumberland
NE65 9EQ